cats
  Working on my new game where you look for cats hidden in strange places, here's a first look. Steam page is up so click here to have a look.
Itch.io has been swarmed with cats! Go find them all: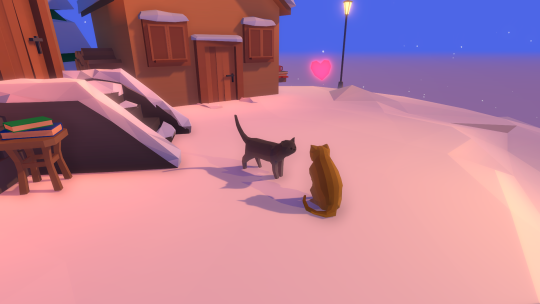 Hidden Paws released on Steam! Yay! My first released game 🙂
https://store.steampowered.com/app/816490/Hidden_Paws
My sister and I started working on this game during Christmas when we were both home for a week. Usually when we're there we play video games and stuff ourselves with food. This time we wanted to be a bit more productive so we decided to make a game. It was supposed to be a simple 48-hour project with one pretty low poly island with cats hidden in it. We actually managed to do quite a lot during those two days, established the art style and core mechanics, but the project just kept growing, we had too many ideas to stop after such a short time. We kept improving the game and so 48 hours turned into over 3 months of work.
There are now over 12 beautiful winter islands instead of the intended one. Each has a lot of places where cats could be hiding. You can open windows, boxes, car trunks and so on.
It's an incredible experience to make and release a game, you should try it! 😉